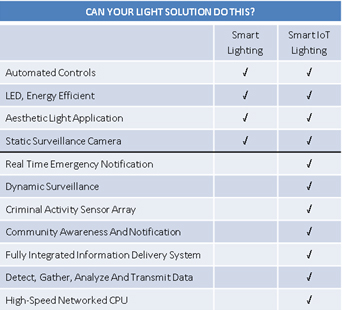 Imagine street lighting with 360-degree video cameras, facial recognition and real-time notification to security and police dispatchers – all built discreetly into one streamlined, architecturally designed light post. Now add an LED lighting controls and charging station for electric vehicles. This is Smart IoT Lighting® from PennSMART.
Smart IoT Lighting is the wave of the future and is on display April 14 at the Boston New England Security Expo from ASIS, the leading organization for security professionals worldwide.
PennSMART's IoT lighting solutions provide communities with the ability to discretely monitor, detect and analyze activity taking place in vulnerable areas, providing increased security for smart cities and campuses. For retrofits of existing systems or new installations, Penn Globe streetlights can be customized with security and safety features such as:
• Discreet, dynamic surveillance cameras "under the trees" where vision is not obstructed
• 360-degree motion sensor video cameras that can trigger programmable bright lights
• Facial mapping (beyond recognition) using GPUs
• Police/Security notification in real-time (within 3 seconds)
• Gunshot sensors and notifications
• Glass break sensors and notifications
• Emergency blue lights
• Data collection (e.g. license plate readers)
• Digital signage (amber alerts, evacuation notices, etc.)
For more information about PennSMART's new solutions for lighting, security, surveillance and public safety, visit www.pennsmartlighting.com or call 203-484-7749.
About PennSMART
PennSMART, a division of Penn Globe (The Pennsylvania Globe Gaslight Company) offers complete M2M solutions for lighting, security and public safety of cities, towns, university campuses and other public spaces. The company's energy-efficient and LEEDS-certified Smart IoT Lighting systems provide real-time access to the latest innovations in monitoring, surveillance, and data collection technology. www.pennsmartlighting.com
About Penn Globe (The Pennsylvania Globe Gaslight Company)
Penn Globe, known for providing legendary lighting and innovative design, first brought gas-powered street illumination to America in 1877. A family owned and operated manufacturing company, Penn Globe uniquely combines world-class craftsmanship with state-of-the-art lighting technology. Energy efficiency and sustainability drive Penn Globe's research and development design team to deliver excellence in photometric performance. The company manufactures gas and electric HID gaslights, fluorescent, induction, energy-efficient and LEEDS-certified LED luminaires and, through its new PennSMART division, IoT lighting solutions for smart cities, higher education campuses and other public spaces. The company is located in North Branford, Connecticut. www.pennglobe.com
Source:
http://www.lightdirectory.com/news-PennSMART%92s-IoT-Lighting-Delivers-Surveillance-And--Data-Collection-For-Safety-And-Sustainability.htm