Top 10 bedding producer King Koil has signed a license agreement with Real Innerspring Technologies Pvt. Ltd. of New Delhi to manufacture and market King Koil-branded sleep products in India.
Established in 2005, Real Innerspring Technologies has four production facilities in the northern and western cities of Punjab, Gujrat and Mumbai, as well as in New Delhi, its home base. The company makes and supplies premium, patented spring-based beds to hundreds of stores in India and is a recognized mattress brand in the country's retail and hospitality markets, King Koil officials said.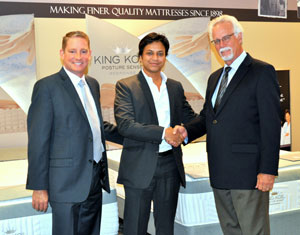 Archit Gupta, center, managing director of Real Innerspring Technologies of New Delhi, meets at the summer Las Vegas Market with King Koil executives J.P. Ledoux, left, and Owen Shoemaker.
"We're extremely pleased to have partnered with such a growing, well-respected and high quality operation in India," said Dave Roberts, King Koil president and chief operating officer. "Real Innerspring Technologies has major plans to expand into southern India and to quickly grow its retail distribution of King Koil products in both multi-brand stores and new brand-exclusive outlets by the end of this year."
Initially, King Koil India will make and market Posture Sense beds, which incorporate the company's Balanced Support Coil System, among other King Koil-branded products, officials said.
According to Archit Gupta, managing director of the new licensee, "Our strategy is to target India's middle and high-end mattress market with King Koil beds that represent upscale alternatives to existing bedding lines. We want to redefine for both retail customers and mattress consumers in India the levels of comfort and support that King Koil sleep solutions can deliver."
King Koil has international licensees who serve more than 80 countries.
Source:
http://www.furnituretoday.com/article/567224-King_Koil_signs_licensing_agreement_for_India.php