A renewed focus on style, quality and product features is keeping motion furniture showrooms busy at the High Point Market as buyers eagerly shop for the latest product introductions.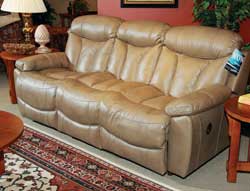 Franklin's new 445 sofa features a curved front seat design and a breathable polyurethane cover.
Producers said that while price is still an important part of the buying decision, it generally is not the key driver. They say dealers are asking for styles that eschew the "bubba" stereotype and appeal to a wider range of consumers.
"People are looking for motion product that appeals to the female consumer, and we think power mechanisms and better styling will address that," said Lee Fautsch, senior vice president of sales for home furnishings at Flexsteel.
Fautsch said the company, which has a dozen new motion groups in its market showroom, is having success with items that have upgraded fabric and leather covers, as well as add-on features such as power mechanisms.
"(Buyers) don't seem to be afraid to move up in price point," he said.
Similar success is reported at Best Home Furnishings, which is rolling out its Next Generation collection of small-scaled, contemporary and transitional recliners. The new chairs feature an array of leather covers in lighter hues such as blue, yellow and white.
"The response has been great," said Eric Vollmer, the company's advertising director. "We saw double-digit attendance increases (over the weekend) and expect that pattern to continue."
Recliners also are a big part of the market success story at HomeStretch, which is significantly expanding its lineup of free-standing recliners.
The new models, which generally retail for $399 to $599, feature the same quality construction and quick delivery stories as the rest of the line, but also include distinctive styles and features, said HomeStretch Vice President Gentry Long.
"If you can create a style that's not the same as everybody else, but can be competitive on price, you will do well with it," Long said.
Chuck Tidwell, vice president of merchandising and product development at Franklin, agreed that product differentiation is critical, and said it can be established in the eyes of the female consumers with right combination of fabric, design and comfort.
"It must have eye appeal. It has to be inviting," Tidwell said. "Motion is all about comfort, but it has to be inviting to sit down in it." 1 | 2 | NextFull Page Version
Source:
http://www.furnituretoday.com/article/568608-Motion_moves_past_price_at_High_Point_Market.php