What is high-end upholstery? Is it defined by a price point? OBentley Churchillr is it simply a matter of the best materials?
Almost unanimously, retailers, manufacturers and designers agree that the buyer of high-end furniture bases her decision on how a product makes her feel and on her own interpretation of luxury rather than on price. And in one of the most challenging economic periods in recent memory, attracting this discerning consumer has required careful consideration and abundant creativity, both in the factory and on the showroom floor.
"We define luxury items as anything that makes Mrs. Gotrocks' heartbeat change," said Amor Forwood, CEO of Austin, Texas-based retailer Louis Shanks. "The first step in the sale is to make her stop walking, to make her look at the furniture."
High-end furnishings are displayed as home-inspired vignettes throughout the Louis Shanks stores and are accompanied by striking accessories. And the simple strategy works. Last year, Louis Shanks had the company's "largest year in our history," according to Forwood, and for this year to date sales are up 17.5%, he added.
He said Louis Shanks has remained committed to the high end, even during the worst part of the recession.
"Everybody ran off from high-end for a while, but we stayed," he said. "Houston is the third largest retail market in the country, and we are the only store around with a large selection of high end."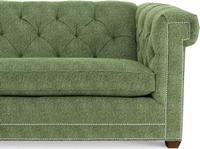 CR Laine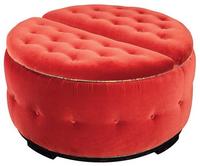 Emerson et Cie
Florida-based Robb & Stucky International has also become a retail powerhouse in the high-end segment.? Founded 98 years ago, the original Robb & Stucky filed for bankruptcy and closed all stores in 2011. The new owners acquired the assets later that year, creating a "new company with a long history," according to President Steve Lush.
"When we bought the Robb & Stucky brand, we knew one of our biggest challenges would be redefining the brand and making it relevant for today's consumer," Lush said. "Part of the solution was to offer a slightly wider range of styles and price points. Our showrooms are large enough - they average 60,000 square feet - to allow us to have a 'good/better/best' merchandising strategy. Our business has been equally strong across all three levels.
Lush said the company offers vendors including Marge Carson, Ferguson Copeland, Century, E.J. Victor, Ralph Lauren, Hickory Chair and Hickory White - products that feature "the finest materials, construction and finishes" and "offer many options and customization." Although some vendors and dealers abandoned the high end category during the economic downturn, Lush says Robb & Stucky remained committed.
"During the recession, most consumers traded down in price points by one or two levels," Lush said. "Part of our strategy was to make sure we offered products in the price points that our customers were now looking for. Some retailers make the mistake of trading down too far; this can lead to confusion and can even alienate your core customer base. We simply kept our top end where it was and expanded our lower price points down one level. Because of this, we feel we have kept our original customer base and have perhaps even expanded it a bit."
Lush added that the "luxury shame" that affluent consumers experienced during the peak of the recession has dissipated. However, he also notes that consumers are also more discerning about value.
"While consumers' appetite for luxury goods is certainly growing, value is more important now than ever," Lush said. "Regardless of the price point, today's consumer - even the most affluent - demands, and deserves, value. They'll pay top dollar for the very finest quality product and services, but they won't overpay for something that is of suspect value. That's a major difference between today and during the peak of the bubble economy."
Wasser's is a high-end retailer in southern Florida. The company has been in the luxury furniture sector for more than 30 years.
"Most of our clients are looking for something high-end, are fashion focused, driven by style and quality, and often price is usually less of a concern," said Jaime Wasser, vice president. "They are the vacation homeowners, luxury car drivers, luxury watch and handbag owners, and they want their home to follow suit. It is those who strive to stand out, through the brands they associate with, the quality of life they choose to live and the taste level in the items they surround themselves with at home."
Wasser said that selling in the luxury sector requires careful showroom editing.
"We really cherry-pick through what is available in the market and select the very best," she said. "We mainly display American and Italian made furniture and select vintage and antique items. The product we see as luxury is designed to the utmost of beauty, quality and workmanship, not compromising comfort or functionality."
High-end manufacturers also responded to the recession with a variety of strategies. Lean manufacturing is now the accepted modus operandi in factories, accompanied by the ever-present image of a new consumer model.
"I define the luxury sector as providing a product that is at the high end of its category and one that the consumer truly covets despite its high cost," said George Jordan, president of custom upholstery companies Miles Talbott and Michael Thomas. "We've all purchased something that is near or beyond our means simply because we appreciate its beauty and we simply have to have it.
"The recession has changed and lowered the amount of people that buy luxury furniture," Jordan added. "Also, people were afraid to make big ticket purchases for a year or two but that trend seems to be waning now. We had to find other channels of distribution, like international, to fill the void and develop more compelling products, but we have always been in the luxury market. Your website, advertising and marketing have to have the feel of luxury, but the products obviously have to be right as well."
Tom Jordan, chairman of the two companies, agrees.
"I will throw in my two cents by reiterating my 30-yearold axiom that the difference between 'nice' and luxury is details," he said. "Details take time and time is expensive, ergo, luxury goods are necessarily more costly."
Bentley Churchill has been manufacturing high-end upholstery for 10 years. Mark Smith, president of Emerson et Cie, the company that purchased Bentley Churchill in 2008, said that growth in the sector has been continuous despite the challenges of the recession.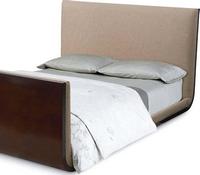 Calvin Klein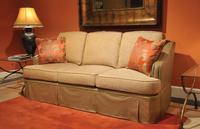 Miles Talbot, Michael Thomas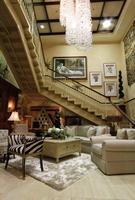 Retailer Louis Shanks displays high-end upholstery in vignettes to encourage consumers to envision the items in their homes.
"The larger retailers we were once dependent upon are almost nonexistent," Smith said. "This has helped us to diversify our offerings and tap into the growing designer market. That has been beneficial for us because we now have a closer relationship with our customers and continue to seek unique offerings that they are unable to find with other manufacturers.
"In today's economy, consumers associate price with quality," he said. "They are looking for furniture that is expertly crafted and customized to their homes and lifestyle, and they will pay a higher price as long as they see intrinsic value in it."
Custom upholsterer CR Laine responded to recessionary challenges by refining its business strategy while maintaining style and quality standards.
"We associate luxury not with extravagance, but with being in a state of abundant pleasure," said Holly Blalock, marketing director. "There's no doubt that the recession caused every sector of the market to slow, but this slowdown allowed us to evaluate and streamline our processes. However, we did not change any element of our construction materials or techniques. We didn't want to cheapen any element of our upholstery - our reputation is at stake.
"What we did was hone in on elements of style and color that differentiated us in the marketplace. When the masses were touting safe, basic shapes and neutrals, we were introducing tall and curvy silhouettes in layers of texture and color. When a buyer was ready to make additions, we caught their attention. As a result, we have experienced double-digit growth for each of the past two years and sales are at an unprecedented high."
As the housing market heats up, many economists predict a strong year for furniture sales. The boon is expected to extend to the high-end sector as well, and retailers are ready to respond.
"My outlook for luxury brands over the next few years is that they will expand and continue to grow," Wasser said. "Most of our clientele have already changed out the furniture in their homes at least three times and now understand firsthand the difference between investing in furniture and buying furniture and how it is similar to investing in a fine piece of jewelry. They no longer want disposable goods and want to acquire items built to last. That is exactly why they choose to go the luxury route."
Source:
http://www.furnituretoday.com/article/562588-Ultimate_Upholstery.php