Government's push of e-commerce in rural areas will stimulate online fresh food sales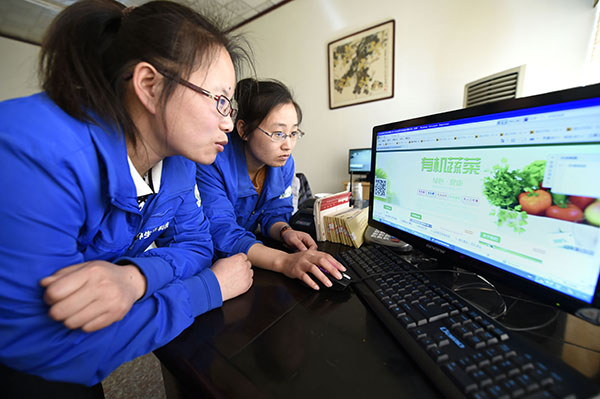 A government-backed drive toward e-commerce can help open up the agricultural sector and generate a rapid increase in incomes for farmers.
At a regular meeting of the State Council in late March, Premier Li Keqiang said it was crucial to modernize the industry, with technology playing a major role.
Half of China's 1.34 billion population live in villages, and at the end of 2010, 125 million were connected to the Internet, a report by the China Internet Network Information Center revealed. Last year, that figure had climbed to 178 million.
"Agricultural e-commerce does not contribute much to the market yet, but it will produce room for huge growth (for farmers' incomes)," Wang Xiaobing, deputy director of the Department of Market and Economic Information at the Ministry of Agriculture, told an e-commerce forum in Guiyang, Guizhou province, last month.
The ministry's data show that online transactions of farm produce were valued at more than 100 billion yuan ($16.1 billion) last year. But that only accounted for 3 percent of the nation's total.
This means there are vast growth prospects in the countryside, particularly for farmers who could sell their produce online if they were connected to the Web.
Online sales in agricultural products have already proved successful. Last year, the Ministry of Commerce organized two Internet markets on its website, mofcom.gov.cn, with 11.03 billion yuan worth of produce sold.
In May last year, the Ministry of Agriculture also rolled out an online database system in Chengdu, Sichuan province. More than 5,000 farmers were included on the site. This allowed prospective buyers the chance to contact farmers as well as providing an e-commerce platform for farmers to sell their products.
Rural e-commerce is going through a key development phase, according to the 2014-2015 Chinese Agricultural Products E-commerce Development Report, released by the China Food (Agricultural Products) Safety E-commerce Research Institute in April.
The report showed that the country now has more than 4,000 e-commerce sites selling farm products and 31,000 agricultural-related online companies.
The rapid expansion of mobile smartphones and tablets in China is helping to fuel this rise, with the number of connected consumers climbing to about 1 billion last year, up 231.7 percent compared to 2013, the report highlighted.
AT Kearney, the research and marketing consultancy, confirmed that the country's e-commerce market continues to expand, with third-and fourth-tier cities, as well as rural areas, driving growth.
"China remains one of the most attractive online retail markets in the world," Torsten Stocker, a partner with AT Kearney's consumer products and retail practice, said.
As China embraces the Web, the farming industry can reap online benefits with the right financial support. Jiang Yang, vice-chairman of the China Securities Regulatory Commission, made it clear at a forum that financial reform in rural areas would accelerate the development of the agricultural industry. "To develop the financial market in rural areas will help decrease the outflow of capital and improve these regions," Jiang said.
Investment companies are leading the way by providing financial backing. In 2012, foreign private equity funds, such as the Carlyle Group and the Blackstone Group, moved into the country's agricultural industry. The Blackstone project in Shandong, for example, has attracted investment of about $600 million.
Domestic firms, such as CDH Investments, Hony Capital and Shenzhen Fortune Venture Capital Co Ltd, have followed suit by investing in food companies and agricultural engineering.
The All China Federation of Supply and Marketing Cooperatives also plans to invest 2 billion yuan in e-commerce sites, selling mainly agricultural products in Beijing, Shanghai and Guangzhou.
As a result, trading volumes of fresh food in China have surged 221 percent to reach 13 billion yuan in 2013 compared to 2012. By last year, the number had increased by 100 percent to 26 billion yuan. It is hardly surprising then that the country's Internet and e-commerce giants are expanding into rural areas.
Alibaba Group Holding Ltd announced last year that it would launch a 10 billion yuan project to develop e-commerce in the countryside during the next three to five years.
Its plan is to strengthen the logistics system, educate buyers and sellers, and set up rural shopping services for agents. This should help increase the income of farmers. In March, Tmall, an Alibaba e-commerce platform, announced plans to roll out a fresh food "online market". More than 100,000 products from 70 countries and markets will be sold on the site.
The target audience will be consumers from first-and second-tier cities as well parts of third-tier cities. Tmall aims to deliver fresh food products to 246 Chinese cities within 24 hours.
Since 2010, the sales of agricultural products on Alibaba sites have soared. Online revenue from farming products was only 3.7 billion yuan in 2010. Last year, the number climbed to 80 billion yuan.
Other major players are also moving into the sector. JD.com Inc, China's largest online direct sales company, unveiled a marketing promotion in 2013 in more than 100 towns.
This involved 10,000 commercials painted on all kinds of blank walls found in the villages. The Internet company also showcased electrical appliances and rolled out branded vehicles, where consumers could purchase products on the spot. Liu Qiangdong, founder and chief executive officer of JD.com Inc, plans to focus on fresh food products this year, working with traditional stores and supermarkets.
This is in line with Beijing's Internet Plus action plan, which aims to integrate online technologies with modern manufacturing.
"Internet Plus is not a simple replacement of traditional business models," Liu said. "It has not changed the essence of business. It stresses mutual benefit by transforming and upgrading traditional industries. E-commerce really represents the Internet Plus concept, while rural e-commerce fits right into the Internet Plus era."
The key is shortening the supply chain for agricultural products. Consumers in rural areas struggle to buy the goods that are available to urban dwellers. This is due to a lack of a high-tech distribution system.
"Rural e-commerce can penetrate into the corners of villages and provide direct distribution channels of agricultural products," Liu said.
"It can not only bring in cheaper products into the rural areas but also reduce intermediate links. This will add more value to subsidized agricultural brands and help farmers increase their income."
Source:
http://www.chinadaily.com.cn/business/2015-06/08/content_20932742_2.htm