A guide to efficient hot-desking. Part 2: Acoustic furniture by Anca on Mar 18. 2013 Best Advice
There is so much noise in your office because you hear whatever is too loud as well as reflections off the walls and ceilings. They can then be amplified by the amount of hard surfaces, which can often out weight the amount of soft sound absorbing surfaces in the office. This is how noise gets louder and makes communication within the office more difficult. Employees like to concentrate on the work or assignments and calls without being distracted. Hot-desking can solve this.
In the second part of our?Guide to efficient hot-desking?(see part one here), we want to present some great?acoustic furniture?pieces that suit hot-desking in working office environments.?Offices that are dominated by hard surfaces tend to reverberant sounds increasing noise, so acquiring some very clever and unique?acoustic furniture?helps absorb as well as create private working or social spaces within the?open-plan office.
You often need privacy for a telephone or video conference call.?Airea Office Phone Booths?solves this problem, the 1420mm x 1420mm acoustic phone booth provides users with privacy and silence. The?office phone booths?can also be fitted with a stool and small table, if required.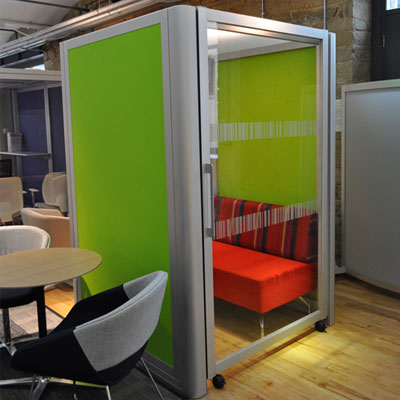 Office walls might not seem an important factor in a friendly and efficient hot-desking environment, but they are! You can use?acoustic panels?to cover-up sections of the walls adding effective small sound absorbing areas to capture some of the noise and reduce the "echo" effect that increases noise levels. Acoustic panels can eliminate disturbing reflections of environmental sounds, like telephones ringing, printer and keyboard typing sounds.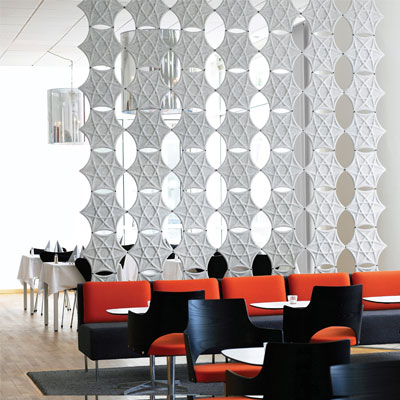 We know?Acoustic panels?can help reduce noise and act as a decorative wall features, because they add colour and texture to an otherwise empty dull wall.?Offecct's?Swell Acoustic Wall Panels?are designed to be used as lightweight sound absorbers in the upper frequency range, from 500 Hz and above. They are easy to install, each acoustic wall panels makes use of Velcro strips meaning there is no need for screws and drills.?Airflake Panels?are another?decorative sound absorbing solution, individual panels can be linked together to form curtains of colour for privacy and assist in sound distribution. They can be combined freely and create large geometrical patterns.
One of the most popular solutions to any hot desking environment that offers flexible working is the high back sofa. Available in a variety of designs and sizes there is an endless choice of variations providing comfortable hot desk working as well as privacy. For example,?the?Cwtch Workbay Sofa?version is available with a screened unit and fixed table for private meetings or working space for single person and groups ideal for informal discussions and meetings.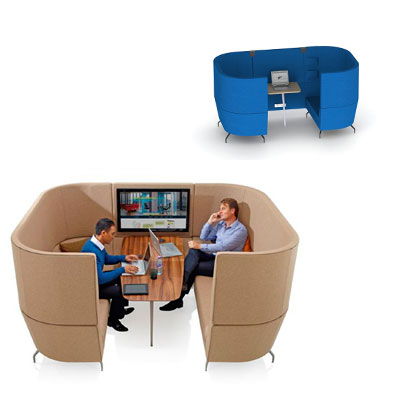 If you already have some low-back office sofas and want to improve their privacy, have a look at?Viswall Room Divider??It consists of two upholstered panels available in 14 colours.?Viswall floor standing screens?allows you to zone off spaces, creatively sectioning areas you want to make confidential meetings. Just rotate the fabric covered panels to make them go from a screen to a partition. You can also use them as occupied indicators to let others know a meeting is in progress.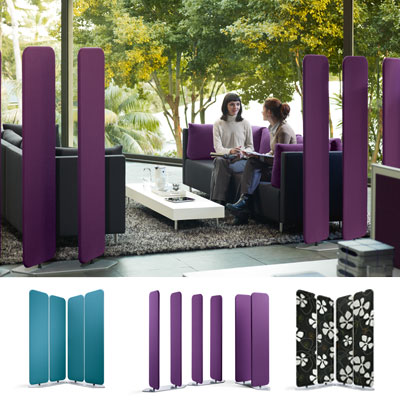 If you want to learn more about acoustic furniture, have a look at our other?acoustic related blog posts.
Next week, the third and final part of?A guide to efficient hot-desking?will include more storage solutions and creative pieces for your working space.
Source:
http://www.apresfurniture.co.uk/Blog/index.php/apres-advice/guide-to-efficient-hot-desking-acoustic-furniture#comments