Is there anything more relaxing than sitting outside on outdoor furniture underneath the warm summer sun? Maybe there`s a cold drink in your hand or a good book?
Odds are that your outdoor furniture is made out of resin wicker, also known as all-weather wicker. Resin wicker isn`t made out of a natural substance, but instead a synthetic material created in a lab.
Evolution of Wicker
Believe it or not, but the term, `wicker` doesn`t apply to a specific material, but the ancient weaving technique created by the ancient Egyptians. There have been archaeological digs that have found wicker furniture dating back to 3000 B.C.
The wicker weave was used for packing material for cargo in sailing vessels because of its flexibility. It was originally made from natural materials such as rattan, but with the creation of plastics, wicker furniture is likely to be made from resin that has been created to look similar to natural wicker furniture.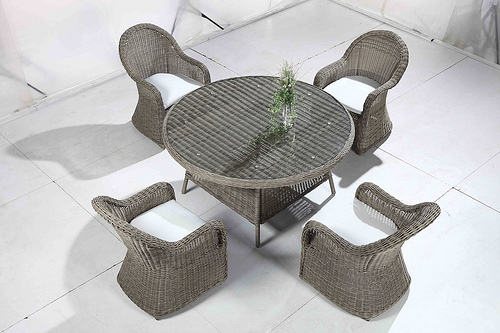 Benefits of Resin Wicker
The biggest benefit of resin wicker is durability. The synthetic material doesn`t easily succumb to the effects of time, heat, cold or water. Hence, it is called all-weather wicker. Resin wicker furniture can be placed outside during all kinds of weather and it will hold up for many years. This is not true of natural fiber wicker, no matter how much it has been treated.
Over time, natural wicker, such as rattan, will weaken and begin to break until the furniture can no longer support weight or becomes an uncomfortable eyesore.
Resin can also be made into any color without painting. The color is simply added to the resin material prior to being molded into the outdoor furniture. This is not true of the natural materials. It must be painted and, therefore, over time, the paint will chip off.
Traditionally, resin wicker is placed over a lightweight aluminum frame to create the popular outdoor furniture. See also Wikipedia 'Resin Wicker'.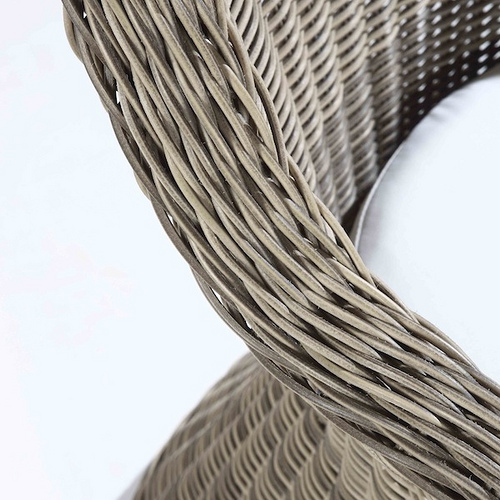 Resin Wicker versus Rattan
The primary difference between resin wicker and rattan is they are two different materials. Rattan is a natural and flexible plant fiber that has been used for outdoor wicker furniture for a long time. Resin wicker is synthetic and created in a laboratory as compared to being harvested. Rattan is incredibly strong and is first steamed until pliable and then placed in the wicker weave. When the material dries, it retains the new shape and will hold that shape forever. Unlike resin wicker, rattan furniture does usually use an aluminum frame and the entire chair is made from the rattan material.
Rattan furniture needs to be taken inside to avoid negative outdoor weather, which can shorten its lifespan. Since it`s a natural fiber, it`s also susceptible to mold growth, which is not a problem with resin wicker.
Resin wicker has become a favorite for swimming pools, resorts and hotels because of its low cost, high durability and easy maintenance. Wicker is the favorite of people who prefer traditional outdoor furniture or furniture for enclosed patios.
Source:
http://blog.velagopatiofurniture.ca/2013/05/27/rattan-outdoor-furniture-re-invented/